Flush Mount Hidden Door Hinge Kit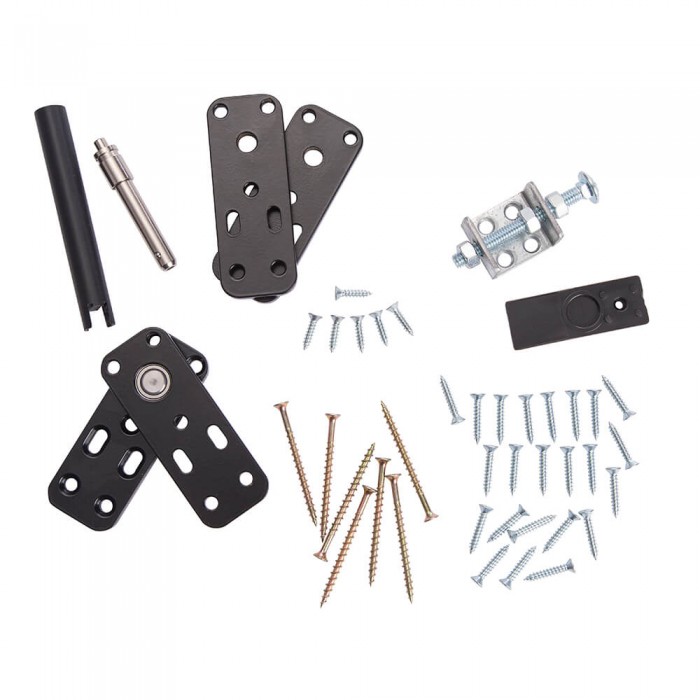 Hidden Door Hardware Kits SHIP WITHIN 1-3 Business Days WHEN ORDERED MON-FRI
Feel Free to compare us to our Competition! We guarantee we are the best on the Market!
PATENTED Ball Bearing Lower Pivot Point Rated at 1160 Torque lbs dynamic load and 540 Lbs Static.

Upper pivot pin is a slip pin and not a bolt that can strip out and cause sag in just a few uses.

LIFETIME WARRANTY!

This product is for EXPERIENCED LEVEL builders and requires you to DESIGN and BUILD your own door system.
Do It Yourself Hardware Is For Skilled Builders and Cabinet Makers!
Murphy Door Makes NO CLAIM to the ease of designing and building your own bookcase. Bookcases and Cabinetry is a SKILLED profession, If you choose to design and build your own bookcase, Murphy Door will NOT provide you with any dimensions, we will not aid in any way with the design or customization of a door nor help in the construction process of building your own door.
Have you always wanted to build your own secret passage at the end of a hallway, in a library or in your man cave?
Do you have a gun room that you would like no one to know about. How about a hidden pantry in your kitchen. Are you a do it yourselfer or professional cabinet maker that likes woodworking, or do you have a customer requesting this unique, "Got to have this" in their home. This hidden door hardware kit is used to design and build your own flush mount "type" hidden door. This unique system allows you to use one hinge to make inswing, outswing, left or right hinged doors. Now this all-inclusive system includes all hardware to build the flush mount hidden door system, this kit includes all the necessary hinge components for you to design and build your own door system.
If you are a retailer or contractor that would like to carry this in your store or offer it to your customers please contact us at www.murphydoor.com/contact or feel free to call us at 888-458-5911 for more information on how you can become a dealer or this very unique popular item.
| | |
| --- | --- |
| Product Code: | FlushMountHingeKit |
| Availability: | 2 - 3 Days |