Flush Mount Hidden Door Package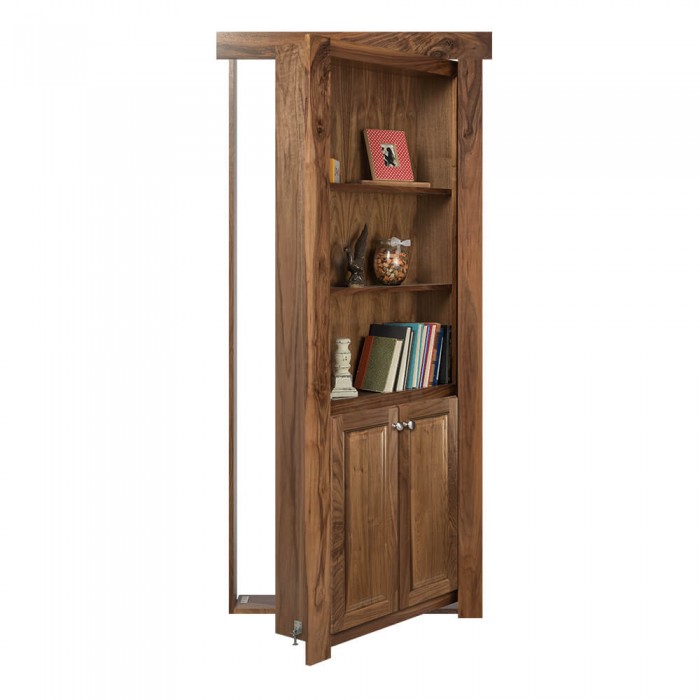 Do you have doorways in your home taking up valuable space? Here at Murphy Door we have the solution! Why not take this opportunity to evolve that void space into a beautifully crafted cabinet doorway? Let Murphy Door transform your otherwise boring doorway into an exciting space-saving work of art! Our Flush Mount is not just a door; it will also give you that much needed storage space you desire. Our Flush Mount assembly is a functional cabinet that provides you a variety of storage uses. Each Flush Mount supports up to 300 lbs.; and during operation, valuables and books will stay in place. Every Murphy Door is manufactured and assembled in the USA. Each pre-built unit comes with a limited lifetime parts and manufacture defect warranty. The Flush Mount door comes assembled and will include all the necessary hardware (installation required). Even a DIY handy-man can install this wonderfully engineered piece of furniture. While sizing up your new door, please keep in mind Murphy Doors fit in the standard 82 in. rough opening height. Installing a Murphy Door adds excitement to any existing opening. A Flush Mount can transform an ordinary doorway into a secret passageway, hidden door or can even give you an additional level of security for any safe or panic room without having to retrofit the opening. With the price of homes on the rise, a Murphy Door is a fantastic way to not only beautify your home, but maximize your square footage.
Door comes either unassembled or fully assembled
Assembled units come pre-hung in the jamb
Door comes with 3 adjustable shelves and 1 fixed shelf
Includes every component necessary to build your very own Murphy Door.
In swing doors will lose 6 in. of pass through; out swing doors will lose 10 in. of pass through
Hardware installation required; hinge position templates provided
Solid core; MDF and hardwood components add strength and durability
Safe working load 300 lbs.
Manufactured and assembled in the USA
Installation tools required: Tape measure, level, and hammer, rubber mallet, screw gun with #2 Phillips bit, flat head screwdriver, wood clamp, wood glue and shims
*Disclaimer: All doors wider than 40" will not be warrantied against sagging or twisting due to their size.
Flush Mount Door weights range between 80lbs and 150lbs depending on the options selected for the door.
Framing Requirements: For Standard Doors
24" Bookcase Rough Opening is 26"x82"
26" Bookcase Rough Opening is 28"x82"
28" Bookcase Rough Opening is 30"x82"
30" Bookcase Rough Opening is 32"x82"
32" Bookcase Rough Opening is 34"x82"
34" Bookcase Rough Opening is 36"x82"
36" Bookcase Rough Opening is 38"x82"
Custom Doors: Door width plus 2", Door height plus 2". (See RO listed on Door purchased, this refers to Rough Opening Requirement.)
Please note: All final measurements submitted for order by a customer and given to us by the customer is the responsibility of the consumer to insure the measurements are correct, Murphy Door Inc. will not be liable for any incorrectly ordered product by customer, regardless if Murphy Door process the order on your behalf or not. Please verify your sizing after order on your invoice to insure it was processed correctly. If there is an issue please contact us immediately.
Total width the inside dimension of jamb is the size listed on your door option IE: 30" door is 30" inside to inside of Jamb 3/4" Veneer Engineered Solid Core MDF for sides, 3/4" doubled for total thickness of 1 1/2" for top and bottom, shelves. 3/4" Solid Hardwood face frames (excluding paint grade)
Murphy Door has changed the Custom order and now offers several common sizes but are still isted as custom. All custom sizes are sizes not inventoried and will be made per order. the Custom ship time frames change frequently, please check shipping tab for further information on current expected ship times.
* Door sizes 90" and taller are a $250.00 charge to accomodate the additional freight for shipping the door laying down requiring two pallet spaces on a freight truck.
Custom Order Options
* Standard Door Width 24"-36"
* Custom width 38" to Maximum 48"

* Door Heights: Standard Height 82" Rough Opening
* Custom Door heights are 72"- 96" Rough opening in height. Ship on Custom Door schedule
* All doors listed with custom in front of the width or height will fall under the custom shipping schedule.
Special Order doors available: If your door is different than doors offered on our site please call us at 1-888-458-5911 for a quote.
* Depth: 12" Doors will be fabricated under the custom shipping schedule
* Side Bookcases at additional price in addition to the custom fee.
* To Order custom simply select Custom Door Option, and enter your specific Rough Opening In the Comment Section at Checkout.
To insure proper pricing and hold up please be sure you order the door closest to the custom size you need.
FREE product pickup available to contiguous US customers by picking one of two warehouse locations during checkout.
**Door pickup will NOT change production time, All doors are built to order. Estimated times listed are production times, and do not include shipping.
East Coast Orders
Please be aware that all East Coast orders must go through our East Coast distribution center in Kentucky. When your order is completed it may hold for a few days in our Ogden warehouse waiting for transfer. Once your order arrives in KY it will be sorted and shipped accordingly. If your time frame does not facilitate for a transfer and you need your freight direct, please let us know and we will price your freight direct from Ogden Utah to your location. Please be aware average savings with distribution is over $500.00. So don't be surprised when your freight bid is really high.
All Assembled Doors to Canada* & Alaska: +$500.00
All Unassembled Doors to Canada*: $300.00
All Doors Hawaii: +$1000.00
*All taxes for Canadian orders are the responsibility of the customer and not included in the shipping price.
We can quote shipping any where in the world but the customer is responsible for import and tariffs.
PRODUCTION LEAD TIMES*
Unfinished
Painted/Stained
Unassembled
1-2 Weeks
N/A
Assembled
2-3 Weeks
3-4 Weeks
Custom
4-6 Weeks
Home Solutions
4-6 Weeks
*All lead times are an estimatation in Weeks (holidays excluded) and are not guaranteed.
ALL DOORS ARE MADE-TO-ORDER
NEW Rush Order Options:
Option 1. Rush unstained/ Unpainted Doors Completes Production in 3 Business days or less $300.00
Option 1. Painted/Stained Doors Completes Production in Less than 7 Days. $300.00
Option 1. Custom Orders Completes Production in 21 days or less $300.00

Option 2. Rush Unstained/Unpainted Doors Completes Production in less than 10 Days. $200.00
Option 2. Rush Painted/Stained Doors leaves our warehouse in less than 3 weeks $200.00
Option 2. Custom Orders Completes Production in less than 4 weeks $200.00

*** Rush Options are based on when your door completes production. Murphy Door makes no guarantees written or implied on delivery times, All delivery times are an ESTIMATE based on historical data from our shippers. Murphy Door will offer NO refunds for delayed shipping times or for damages in delivery, this is beyond Murphy Doors control, This option is entirely at the consumers risk.
Cancellation: NO CANCELLATIONS ON RUSH ORDERS! DUE TO NATURE OF THIS ORDER
Exceptions: Depending on the custom nature of your door and options included, some of the options such as cabinet doors, Automation, Maglocks or components, Fluted Casing, Entablatures, may need to ship seperately
| | |
| --- | --- |
| Product Code: | MDFM |
| Availability: | Made to Order |