Gun Door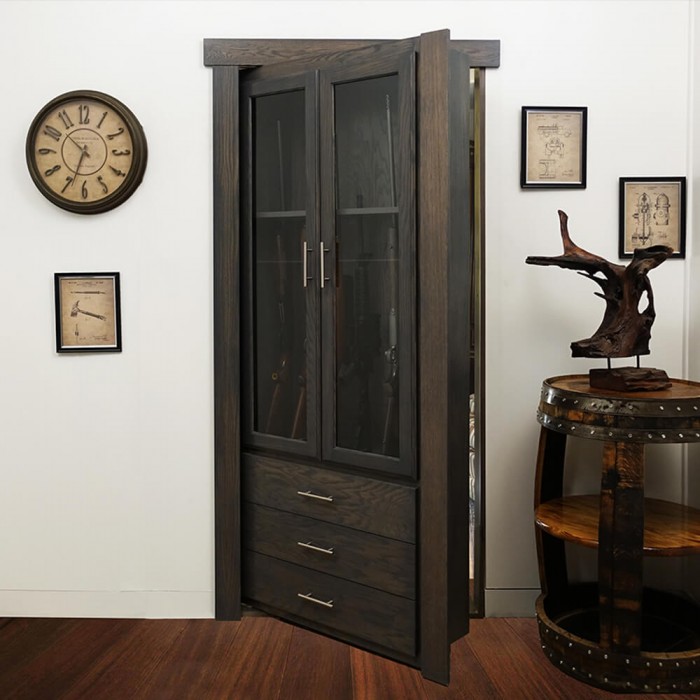 Store your guns with style using the new Gun Door storage solution by Murphy Door. This door includes a pull-out drawer with removeable tray for storing your ammunition and accessories. A fold down drawer with 6 magnetic pistol mounts and the top section has slots to store between 4 - 6 rifles. Key locks are included for each section.
INCLUDES
1 Pull-out drawer with removeable insert for ammunition and accessories (key lock included)
1 Fold down drawer with 6 magnet pistol mounts (key lock included)
Standing Gun Slots to hold 4-6 rifles, etc. (key lock included)
Gun Doors are available in the following sizes:
30", 32" and 36" wide with standard rough opening heights are equal to door width plus 2" x 82" in height
Due to the complexity of drawer installation these doors are only offered in ASSEMBLED
Assembled Hidden Doors are delivered pre-hung on a 4 sided jamb (lower threshold) Simply hang like a store bought pre-hung door.
Jambs built for a standard 2x4 wall with 1/2" drywall total jamb thickness of 4 9/16". These doors will not work on a wall deeper than 4 9/16" with the in swing option.
Jamb Depth
4 9/16" = Standard (No Charge)
6 9/16" = +$25
Custom Jamb Depth = +$50
Wood Types Available:
All wood is a mixture of Hardwoods and Veneered engineered MDF to reduce warping
Alder
Oak
Maple
Cherry
Hickory
Walnut
Paint Grade, Paint grade is a 3/4" MDF, with poplar combination
Paint Grade, Maple/ Poplar is a blend of different paintable veneers and hardwoods which are absolutely NOT stainable
All Hidden Door packages (assembled/Unassembled) Include:
1- Bookcase Door with Face Frame
1-Jam/Threshold built for a standard 2x4 wall with 1/2" drywall for a total jamb thickness of 4 9/16"
1- Trim Kit
1 Hardware Kit
1- Fixed Shelf
All Necessary hardware to assemble your bookcase
Instruction Manuals and videos available online under the 'How-To & Support' menu link.
Required Tools: (not Included)
Rubber Mallet
Wood Glue
Saw
Drill/ Screwdriver
Level
Hammer
Shims
1 1/2" Finish nails
ll Doors are universal Inswing/Outswing Right or Left Hinged.
Items only available in Assembled:
Optional Items:
Cabinet Doors
Knobs
Locking Systems
Stain/paint (assembled only)
Battery Backup Systems
Custom Sizes
Warehouse Pickups (UT, KY)
Dealers Wanted
Rated at the highest level for client satisfaction by the Houzz community! View our Houzz profile HERE!
Door weights start at 80 lbs for 24" increases up to 135 lbs. with cabinets and lock systems
Framing Requirements:
30" bookcase Rough Opening is 32"x82"
32" Bookcase Rough Opening is 34"x82"
34" Bookcase Rough Opening is 36"x82"
36" Bookcase Rough Opening is 38"x82"
Total overall Depth 12 1/8"
Total inside shelf depth "
Total drawer depth 8"
Total height 81 1/4"
Total width the inside dimension of jamb is the size listed on your door option IE: 30" door is 30" inside to inside of Jamb 3/4" Veneer Engineered Solid Core MDF for sides, 3/4" doubled for total thickness of 1 1/2" for top and bottom, shelves. 3/4" Solid Hardwood face frames (excluding paint grade)
STANDARD DOOR DIMENSIONS AND SIZE DESCRIPTIONS SEE SPECS TAB:
Doors that are 24" or less leave a minimal pass through, The narrowest door available on 12" deep doors is 30" No EXCEPTIONS.
Outswing you Lose 10" of pass through, For proper trim clearance you will want a minimum of 2 1/2" clearance from adjacent walls on either side to allow the trim to remain full width all the way around.
Inswing you Lose 6" of pass through. Inswings need a minimum of 2 1/2" clearance from side of bookcase to wall or obstruction on hinge side.
Hardware: We use Murphy Doors Patented Flush Mount Hardware to make this unique and solid piece of furniture function. Our hardware is rated at 1160 LBS dynamic load and 540 Static.
Bookcase door weight capacity: Our doors are built to last a lifetime We have engineered our bookcases to handle 300 lb. loads on a daily basis and for daily use. Our bookcases use a 3/4" engineered veneered MDF for structural integrity and to reduce warping. Our bookcases have 1 1/2" tops and 1 1/2" bottoms to help carry the weight.
Cabinet doors: All cabinet doors are made with hardwood materials, Paint grade uses poplar combination.
Electromagnetic Locks: Magnetic locking systems require wiring on customers side by a licensed electrician, all Mag lock systems are 12 volt and are inverted to 110 V. A 110 outlet is required near the bookcase. Wiring is required from button to electro maget.
Mechanical Locks: Mechanical locks are a key lock accessible from the bookcase side, and can not be unlocked from the inside of the bookcase door. Murphy door mechanical locks are a very secure lock and pin the top and bottom of the door to the upper jamb and threshold.
FREE product pickup available to intercontinental US customers by picking one of two warehouse locations during checkout.
**Door pickup will Not change production time, All doors are built to order. Estimated times listed are production times, and do not include shipping.
All Doors Intercontinental USA: Starting at $195.00
STANDARD PRODUCTION LEAD TIMES*
Unfinished
Painted/Stained
Unassembled
5 Days
N/A
Assembled
7 Days
14-21 Days
Custom
21-45 Days
*All lead times are an estimatation in business days (holidays excluded) and are not guaranteed.
East Coast Orders
Please be aware that all East Coast orders must go through our East Coast distribution center in Kentucky. When your order is completed it may hold for a few days in our Ogden warehouse waiting for transfer. Once your order arrives in KY it will be sorted and shipped accordingly. If your time frame does not facilitate for a transfer and you need your freight direct, please let us know and we will price your freight direct from Ogden Utah to your location. Please be aware average savings with distribution is over $500.00. So don't be surprised when your freight bid is really high.
All Assembled Doors to Canada* & Alaska: +$500.00
All Unassembled Doors to Canada*: $300.00
All Doors Hawaii: +$1000.00
*All taxes for Canadian orders are the responsibility of the customer and not included in the shipping price.
We can quote shipping any where in the world but the customer is responsible for import and tariffs.
Current lead time on specialty doors is 4-6 weeks.
*All lead times are an estimatation in Weeks (holidays excluded) and are not guaranteed.
ALL DOORS ARE MADE-TO-ORDER
NEW Rush Order Options:
Option 1. Rush unstained/ Unpainted Doors Completes Production in 1 week or less $300.00
Option 1. Painted/Stained Doors Completes Production in Less than 2 weeks. $300.00
Option 1. Custom Orders Completes Production in 3 weeks or less $300.00
Option 2. Rush Unstained/Unpainted Doors Completes Production in less than 10 Days. $200.00
Option 2. Rush Painted/Stained Doors leaves our warehouse in less than 3 weeks $200.00
Option 2. Custom Orders Completes Production in less than 4 weeks $200.00

*** Rush Options are based on when your door completes production. Murphy Door makes no guarantees written or implied on delivery times, All delivery times are an ESTIMATE based on historical data from our shippers. Murphy Door will offer NO refunds for delayed shipping times or for damages in delivery, this is beyond Murphy Doors control, This option is entirely at the consumers risk.
Cancellation: NO CANCELLATIONS ON RUSH ORDERS! DUE TO NATURE OF THIS ORDER
Exceptions: Depending on the custom nature of your door and options included, some of the options such as cabinet doors, Automation, Maglocks or components, Fluted Casing, Entablatures, may need to ship seperately
| | |
| --- | --- |
| Product Code: | GunDoor |
| Availability: | Made to Order |